Mips, Brand Partners Bring Attention to Continued Expansion
Alpinestars, Fox Racing, Thor MX, and Troy Lee Designs showcase the latest innovative helmet models featuring Mips technology.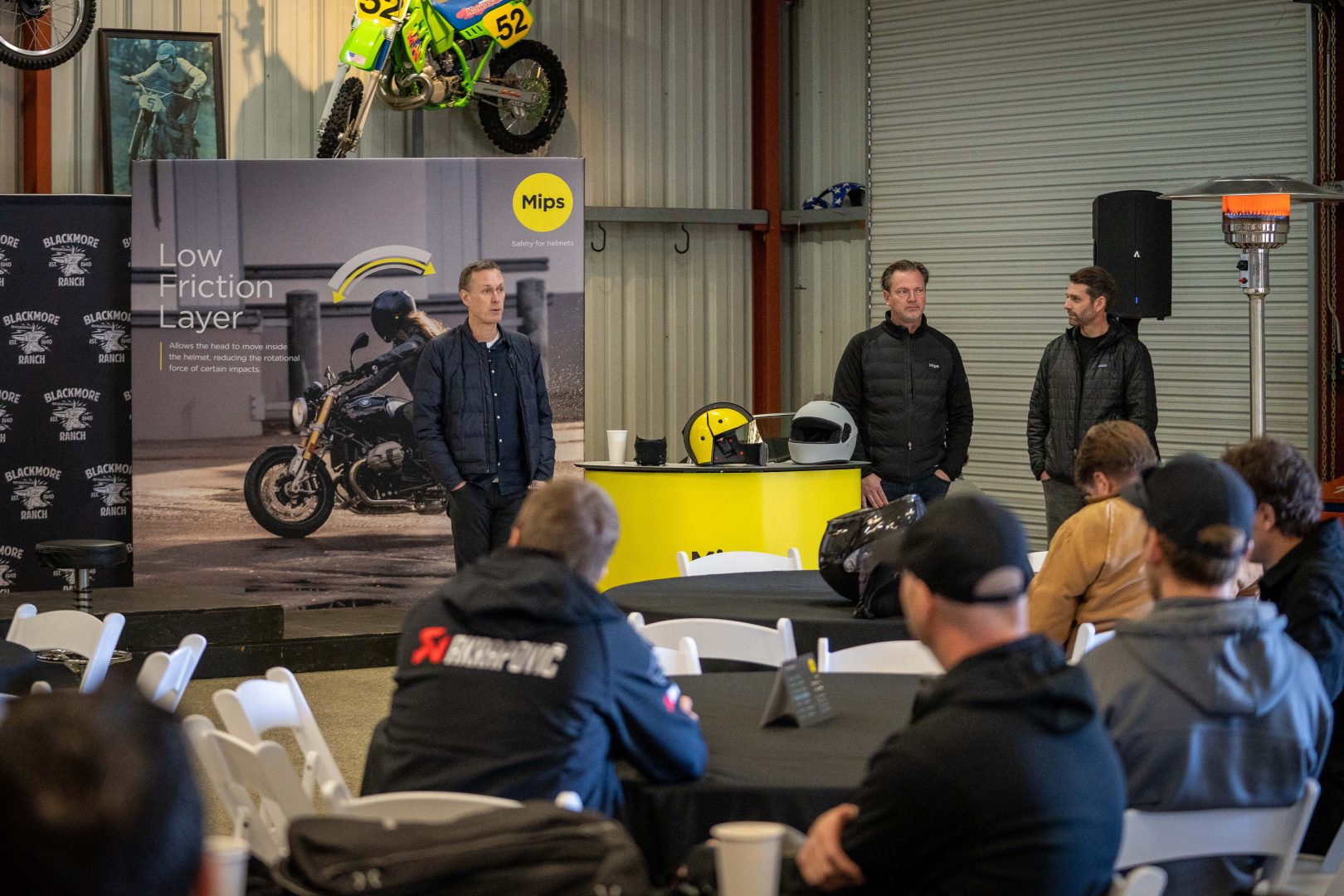 STOCKHOLM (January 30, 2023) – Mips, a market-leading helmet-based safety technology company, was joined by several key partner brands at a special safety symposium in Southern California to bring attention to the Swedish ingredient brand's continued expansion into the motorcycle segment. The event provided an ideal opportunity for Mips to bring awareness to and to educate on the newest technological advancements of its safety system, from the product itself to its testing procedures, and also showcased the innovative implementation of the
technology by the manufacturers Mips has partnered with.
Members of the motocross, local, and national media were in attendance at Murrieta's Blackmore Ranch to learn about the latest refinements of Mips' patented technology, aimed at mitigating the impact of rotational motion on the head in a crash or fall. Mips' manufacturer partners Alpinestars, Fox Racing, Thor MX, and Troy Lee Designs each showcased its newest helmet models integrated with Mips technology and invited some of the industry's most influential figures to discuss the importance of safety for today's enthusiasts. Alpinestars highlighted the latest refinements to its Supertech M10 helmet, while Fox introduced the new V3RS with Mips Integra Split. Troy Lee Designs also discussed the refinements to its SE5 Carbon, while Thor showcased its Reflex and Sector helmets. Each model was made available to the media for demos.
Mips is fortunate to have manufacturing partners that share the same commitment to safety, and we're pleased to see the different helmets they offer, showcasing the variety of ways to implement Mips technology

Max Strandwitz, CEO at Mips
"When we come together in moments like this, collectively, we can create change by offering a different perspective when it comes to the choices consumers make when purchasing a helmet. We'll continue to educate
and raise awareness on rotational motion and helmet safety. Today we were fortunate to have the company of a great group of people and shared many interesting discussions on how the industry can evolve together."
On the racetrack, a total of 36 factory and factory-supported racers in Supercross and Pro Motocross compete in helmets equipped with the Mips® safety system, resulting in 173 combined podium finishes across each discipline during the 2022 season and a winning percentage of 72% for riders equipped with the Mips system.
Some of the most well-respected and highly regarded names from the motocross racing industry joined the symposium to speak with the attending media. The G.O.A.T. himself, Ricky Carmichael, was accompanied by freestyle motocross pioneer and industry icon Carey Hart, while the entire Troy Lee Designs GASGAS Factory Racing Team of Justin Barcia, Pierce Brown, and Michael Mosiman were flanked by owner Troy Lee and his son and team manager, Max.
"We're in the midst of arguably the most pivotal period of rider safety in the history of the sport of motocross," said Carmichael, a 15-time AMA Supercross & Pro Motocross National Champion and longtime Fox Racing athlete and ambassador. "The motorcycles of today's era are faster, more powerful, and more capable than ever before, which translates into a heightened element of risk for competitors. As a result, it is imperative that the protective equipment athletes wear also evolves to provide a higher level of safety. I'm fortunate to be a art of that with Fox Racing, who has partnered with Mips to place themselves at the forefront of that evolution for helmets. Helmets, like the Fox V3RS with the Mips safety system, are the single-most-important piece of equipment for riders and now possess new technology designed for safety. The importance for this technology to also be available to the everyday consumer cannot be understated and has fostered a revolutionary progression in the well being of all
riders."
In addition to industry figureheads and some of the most prominent brands in motocross protection, Mips also welcomed fellow Swedish innovator CAKE. The high-performance electric motorbike manufacturer offered demos of its newest Kalk OR Race, Ӧsa flex, and Makka flex models for attendees to experience first-hand throughout the day.
Mips also used the symposium as an opportunity to celebrate the latest innovation of the Mips Integra product range, Mips Integra TX, which will be featured in the newest racing helmet from Japanese manufacturer Kabuto, the F17 Racing Mips. This partnership will center around MotoGP to bring the first helmet equipped with the Mips® safety system to the world's most high profile motorcycle racing championship.
Mips brings more than 25 years of knowledge, research, and development into its technology. To date, Mips boasts partnerships with over 150 different helmet manufacturers for integration of Mips® safety system into more than 800 different helmet models for activities like motocross/motorcycling, cycling, equestrian, snow sports, and climbing, as well as construction. Mips offers an array of solutions that can be utilized to provide a fit for virtually any type of helmet application through its product range: Mips Essential, Mips Evolve, Mips Integra, Mips Air, and Mips Elevate. To learn more about the safety system and innovation behind Mips, please visit mipsprotection.com.