MIPS to focus on UK Construction Sector
Swedish brain protection company MIPS is teaming up with leading European Safety Helmet and PPE manufacturers to incorporate their patented brain protection system into hard hats to improve the head protection of thousands of UK workers and make construction sites safer.
MIPS has developed a low-friction layer that is installed inside a helmet by the manufacturer. It can reduce rotational motion caused by an oblique impact from a fall or getting hit by a falling object to improve the head protection of thousands of workers and make construction sites safer.
MIPS is the "Multi-directional Impact Protection System", designed to reduce the rotational motion transmitted to the brain from angled impacts. During an angled impact, rotational motion can cause strain to the brain tissue, which may lead to severe brain injuries. When you have suffered a concussion or even moreserious damage to the brain, rotational motion to the brain is the most likely cause. MIPS' added protection system has been proven to reduce the rotational motion when implemented in a helmet by absorbing and redirecting forces that could otherwise be transmitted to the brain.
The company develops and markets the Brain Protection System (BPS) for helmet manufacturers to incorporate into their helmets. The BPS is found inside the safety helmet, generally between the comfort padding and the EPS (a high-quality foam used to reduce energy). At certain impact, the MIPS BPS can reduce harmful forces that may otherwise be transmitted to the brain. In 2019 MIPS teamed up with Swedish safety helmet manufacturer Guardio, to create the world's first hard hat with MIPS. They are now looking to build upon this success and partner with leading above-the-neck PPE manufacturers across Europe.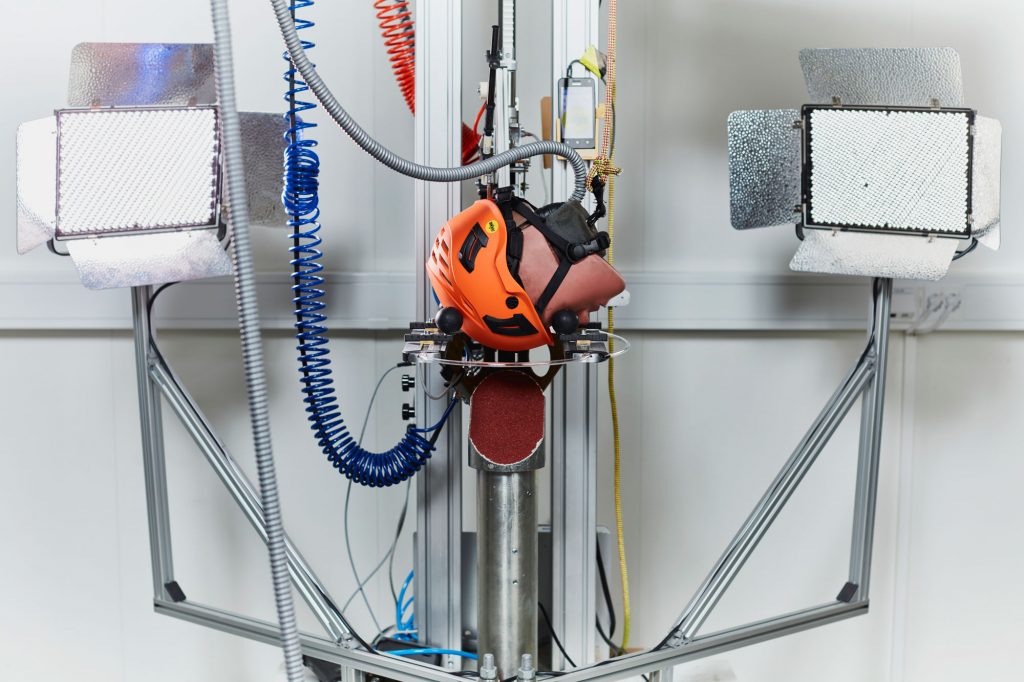 Every MIPS helmet available on the market is developed together with the helmet manufacturer and tested in MIPS' global test centre outside of Stockholm, Sweden.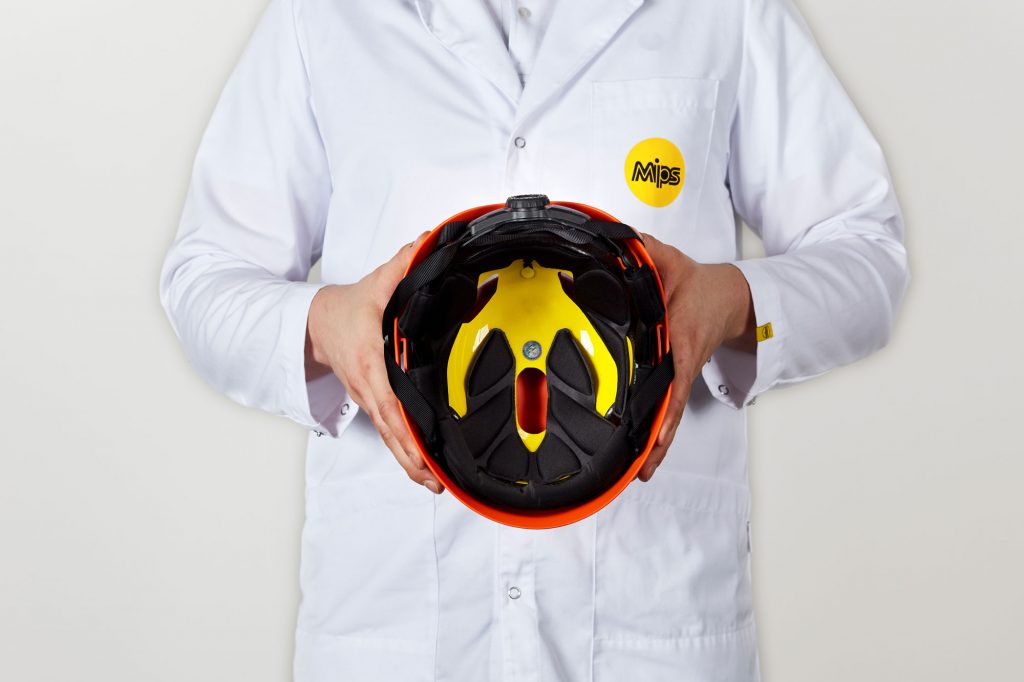 Thanks to the yellow MIPS layer, the head can slide 10-15mm in any direction in the helmet. This can reduce rotational motion that may affect the brain.2019 Construction Statistics for Great Britain show 30 fatalities, the majority of which are falls from height and being struck by a moving, flying or falling object. Although the rate of self-reported non-fatal injuries to workers shows a downward trend, 54,000 non-fatal injuries were still reported in 2019, so the need for greater protection is there. The sector represents around 7% of the workforce and a construction site has many scenarios that could result in a head injury, with multiple trades, contractors and sub-contractors often working alongside each other, the risks are often complex.
HSE found that in 2019, 25% of the non-fatal injuries were from slips trips or falls on the same level; 18% from falls from height and a further 12% were caused by moving objects, including flying or falling objects – all of which, on a busy construction site, can increase the severity of the injury. Around 2.4% of workers in the sector suffered an injury, and this is statistically significantly higher than the 'all industry' rate. The economic cost of these workplace injuries was estimated to be £0.5 billion and accounted for just under half a million working days lost. It is also worth noting that employers substantially under- report these non-fatal injuries: current levels of overall employer reporting of RIDDOR defined non-fatal injuries to employees is estimated at around a half; and the reporting of injuries to the self-employed a much lower proportion.Max Strandwitz, CEO of MIPS explains:
"From our research, we know that in the majority of cases our head hits the ground at an angle when we fall. The same applies when impact, collision or contact with an object occurs. These impact scenarios are more likely to happen in high risk professions, and in particular, on construction sites. Concussions are typical phenomena that can occur following such impacts. This is because an angled impact can cause rotational motion to the head, which can create a tearing injure to the brain tissue. The problem is that conventional industrial safety helmets most often protect against injuries such as skull fractures, but do not reduce rotational motion to a sufficient level. Our brain is about six to seven times more susceptible to rotational motion than to linear impacts."
The MIPS layer inside the helmet ensures that the head can slide 10-15 mm inside the helmet in any direction. This can reduce rotational motion acting on the brain, as independent tests have shown.
"Last year the Swedish safety brand Guardio launched the first industrial safety helmet (EN 397) with MIPS. It was incredibly well received, so we are now already talking with several other European safety helmet manufacturers," says Max Strandwitz.The listed company, which was founded by a neurosurgeon and a scientist, sees great potential for bringing added protection to safety helmets:
"We know that construction workers are particularly at risk for accidents and
particularly head injuries. The MIPS Brain Protection System has the potential to revolutionise personal safety in this sector and offer additional head protection to workers
on as many work sites as possible. In our free time, for example when cycling, riding or skiing, we place an enormous amount of importance on safe head protection. For people who take a high risk because of their occupation, the best possible helmet at workshould also be a priority. Protection against rotational motion should be as important for safety helmets as airbags and seatbelts are in cars," Strandwitz continues.
Despite the widespread and mostly mandatory use of hard hats, construction workers are still at risk for severe head injuries including concussion. They can suffer concussions from the impact force from a fall, slip or trip as well as a result of being knocked in the head by falling tools or debris or impact with heavy machinery. When head injuries occur as the result of an accident on site, the consequences can be life changing and devastating.Notes to Editors:
Representatives from MIPS are available for media interviews and speaking opportunities.
For more information or to arrange an interview contact:
Kirstie Colledge (UK), SMPR (Simply Marcomms Limited)
Tel: 024 7590 1075, kirstie@simplymarcomms.co.ukAbout MIPS
MIPS specialises in helmet safety and protection of the brain. MIPS is the world leader in this field. Based on a ingredient brand model, the MIPS Brain Protection System (BPS) is sold to the global helmet industry. MIPS solutions are patented and are based on 25 years of research, testing, and development, together with the Royal Institute of Technology and the Karolinska University Hospital in Stockholm, Sweden. The brain protection system is already firmly established and well known in sports helmets and extremely popular among skiers and cyclists. Currently over 14m helmets from over 100 helmet brands are equipped with MIPS BPS in the global helmet market. This includes ski helmets, bike helmets, motorcycle helmets, climbing helmets, horse riding helmets and now construction helmets. The company's headquarters, with 38 employees in research and development, sales, marketing and administration is located in Stockholm together with the test facility.
For more information, visit mipsprotection.com