Swedish insurance company, Länsförsäkringar, tests youth bike helmets
Länsförsäkringar just published a press release saying: Last year, Länsförsäkringar tested 25 bike helmets. Now the test has been completed with 11 additional helmets of youth-based mod- els. The test is designed to show how well the helmets protect the head from oblique impacts, so-called rotational violence. "It's the kind of collision against the ground that gives the most serious injuries in bicycle accidents," says Maria Wedin, traffic safety expert at Länsförsäkringar.
Children in Sweden aged 12–16 years often stop using a helmet even though they must do so by law. Focus on appearance may be a possible reason for the helmet being left at home. Per- haps neither the adults in the household are so strict on using a helmet. It can be a fatal decision. According to information from the Swedish Transport Administration, head injuries are the most common cause of cyclists being killed.
— It's always better to have a helmet than none at all, so from that point, all helmets in this year's test are good. Helmets with built-in anti-rotation system, on the other hand, pro- vide better protection against the dangerous oblique head impacts and consistently get the best test results, says Maria Wedin.
Oblique impacts, which can cause a rotation of the head, often causes significantly more serious brain damage than straight impacts, this is shown in several independent research studies. At the same time, research shows that bicycle helmets reduce the risk of severe head injury by about 50 percent.— The test method we used better simulates a correct bicycle accident. The helmet and the test head are released against an angled surface in three different ways instead of straight down, says Maria Wedin.
The risk assessment of cyclists often consists of the idea that "nothing happens only I'm careful".
— In fact, 80 percent of the serious accidents are single accidents, and the most common reason is that the tire will lose the grip – on ice, gravel or leaves and similar, says Maria Wedin.
— We encourage everyone to take care of their head, our goal is that bike helmets will be as obvious to cyclists as the seat belt is for driv- ers, says Maria Wedin.
— We at MIPS are glad to see that the impor- tance of testing helmets for rotational motion is becoming a standard in helmet testing's. Looking at the test results we are also proud to see that the five helmets that scored in the top were helmets with MIPS Brain Protection System, says Johan Thiel, CEO at MIPS.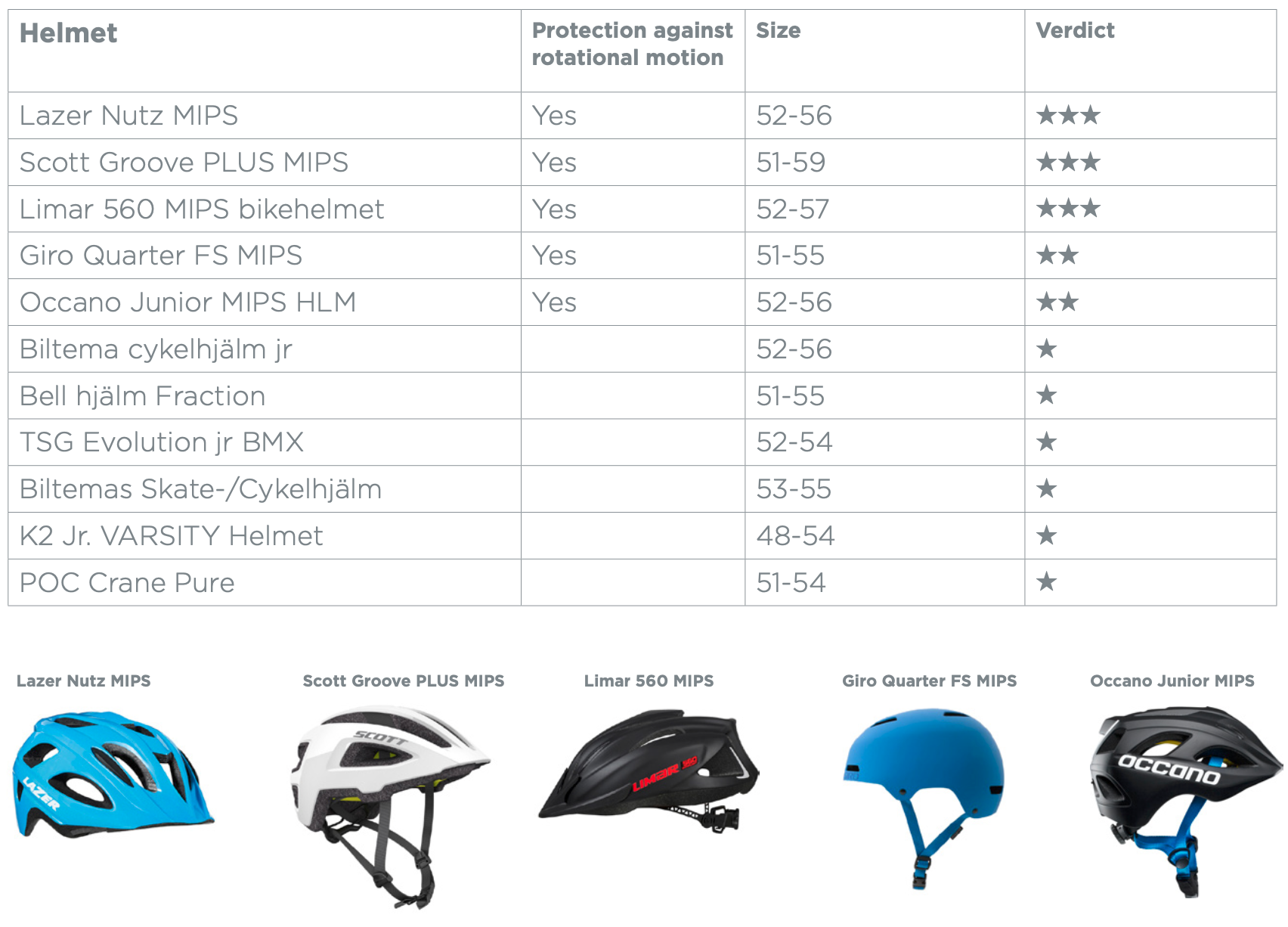 For more information regarding the test, please contact:
Maria Wedin, Traffic Accident specialist, Länsförsäkringar AB, maria.wedin@lansforsakringar.se, +46 73-964 13 45
For more information regarding MIPS, please contact:
Johan Thiel, CEO, MIPS AB, johan.thiel@mipsprotection.com, +46 73 399 65 88